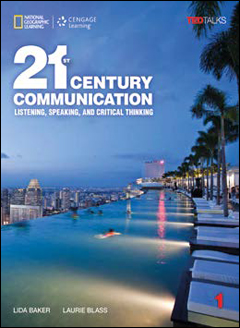 21st Century Communication
National-Geographic
PRE-INTERMEDIATE – ADVANCED CEFR B1 – C1 | 4 LEVELS
Autori
Lida Baker, Laurie Blass, Jessica Williams, Lynn Bonesteel, Christien Lee
21st Century Communication is a four-level series that uses powerful ideas from TED Talks to teach learners to think critically and communicate effectively. Through authentic models of effective communication, students build fluency in the listening and speaking skills needed to achieve academic and personal success.
• TED Talks are used to develop essential 21st century skills, including critical thinking, collaboration and visual literacy.
• Speaking, pronunciation and presentation skills, inspired by TED speakers, prepare learners to deliver successful presentations of their own.
• Extended listening based on real-world situations and TED Talks provide listening and note-taking practice.
• Online Workbooks include the entire audio and video program, and automatically graded language practice activities – ideal for both hybrid and blended courses.
MyELT is an online platform that provides students with an interactive self-study tool and offers teachers and institutions a joined-up learner management solution. We have spent a lot of time talking to users and seeing what works and what doesn't in order to provide something that really works and brings an added benefit to classes.
- Intuitive and simplified navigation
- Full screen activities and video "
- Adding new content and resources is straightforward and easy
- Key titles and all forthcoming titles will be tablet enabled allowing for real mobile learning
Configurazione e acquisto
21st Century Communication 1 STUDENT EBOOK L/S
ISBN: 9780357641941
21st Century Communication 2 STUDENT EBOOK L/S
ISBN: 9780357641958
21st Century Communication 3 STUDENT EBOOK L/S
ISBN: 9780357641965
21st Century Communication 4 STUDENT EBOOK L/S
ISBN: 9780357641972
21ST CENTURY COMMUNICATION ONLINE WORKBOOK 1 L/S
ISBN: 9781305955691
21ST CENTURY COMMUNICATION ONLINE WORKBOOK 2 L/S
ISBN: 9781305955707
21ST CENTURY COMMUNICATION ONLINE WORKBOOK 3 L/S
ISBN: 9781305955714
21ST CENTURY COMMUNICATION ONLINE WORKBOOK 4 L/S
ISBN: 9781305955721
21st Century Communication Student Book 1 L/S
ISBN: 9781305945920
21st Century Communication Student Book 2 L/S
ISBN: 9781305955455
21st Century Communication Student Book 3 L/S
ISBN: 9781305955462
21st Century Communication Student Book 4 L/S
ISBN: 9781305955479