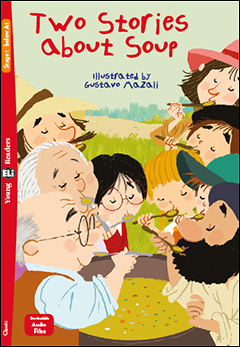 Two Stories About Soup
100 headwords | below A1 | Starters
Autori
Aleksey Tolstoy Retold by Jane Cadwallader. Illustrated by Gustavo Mazali.
These are two traditional stories around getting the ingredients to make soup.

In the first one, retold in a famous version by Aleksey Tolstoy, who will help grandpa pull up a huge turnip to make soup for his family? In the second, of central European origin, how can a poor man make a delicious soup? Both stories have a strong strand of humour but underlying them are important messages about being ready to ask for and to give help, about the importance of teamwork … And about using your imagination and ingenuity.

Syllabus
Vocabulary areas
family and friends, food, animals, time
and meals
Grammar and structures
Present simple
Present continuous
Has / Have got
Determiners
Can for ability
Would like
Tags
working as a team | resourcefulness | helping others | empathy
Accedi ai contenuti digitali direttamente dal libro cartaceo
Come funziona ELI LINK
Con ELI LINK potrai accedere a tutti i contenuti audio e video direttamente da uno smartphone o un tablet mentre stai utilizzando i volumi cartacei Gruppo Editoriale ELI.
Scarica l'app
Avvia l'app
Inquadra la pagina che contiene i contenuti audio/video
L'app proporrà tutti i contenuti presenti
Configurazione e acquisto