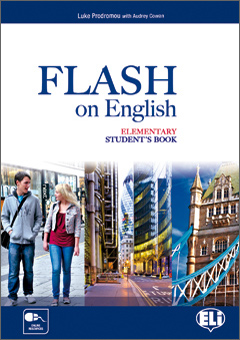 Flash on English International
ELI
English as a Foreign Language (ELT) Course in 4 Levels Levels Elementary – Upper Intermediate CEFR A1 – B2
Autori
Authors L. Prodromou with P. Prodromou, A. Cowan, R. Elliott
Il volume contiene materiale e risorse adatte per una didattica digitale integrata
A motivating, four-level course providing content interesting for teenagers and young adults as well as thorough grammar, vocabulary and skills work. The combination of printed, digital and online material makes Flash on
English an extremely flexible course.
The Upper-Intermediate level includes sections dedicated to preparation for the Cambridge English: First (FCE) exam. The clarity of presentation, the double linguistic input in each unit, the authentic real-world language and the extensive recycling and review ensure ease of use for teacher and student.
Particular attention is given to different learning styles and mixed-ability classes. Culture, CLIL and Literature Lessons are to be found in each unit.
Extensive teaching notes, photocopiable materials and editable tests in digital format are provided.
The interactive digital book containing all the material in interactive format gives the teacher the chance to make learning English more stimulating with 'heads-up' interactive lessons.
Configurazione e acquisto
Flash on English - Digital Book Elementary
ISBN: 9788853615510
Flash on English - Digital Book Intermediate
ISBN: 9788853615558
Flash on English - Digital Book Pre-Intermediate
ISBN: 9788853615534
Flash on English - Digital Book Upper Intermediate
ISBN: 9788853615572
Flash on English - Student's Book Elementary
ISBN: 9788853615428
Flash on English - Student's Book Intermediate
ISBN: 9788853615466
Flash on English - Student's Book Pre-Intermediate
ISBN: 9788853615442
Flash on English - Student's Book Upper Intermediate
ISBN: 9788853615480
Flash on English - Teacher's Pack Elementary
ISBN: 9788853615503
Flash on English - Teacher's Pack Intermediate
ISBN: 9788853615541
Flash on English - Teacher's Pack Pre-Intermediate
ISBN: 9788853615527
Flash on English - Teacher's Pack Upper Intermediate
ISBN: 9788853615565
Flash on English - Workbook Elementary + Audio CD
ISBN: 9788853615435
Flash on English - Workbook Intermediate + Audio CD
ISBN: 9788853615473
Flash on English - Workbook Pre-Intermediate + Audio CD
ISBN: 9788853615459
Flash on English - Workbook Upper Intermediate + Audio CD
ISBN: 9788853615497