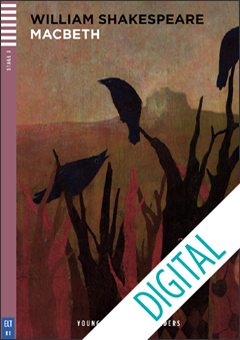 Macbeth - iBooks
ELI
Stage 3 - Young Adult ELI Readers - below B1
iBooks for iPad
Autori
William Shakespeare - Illustrated by Simone Rea. Adaptation and activities by Janet Borsbey and Ruth Swan.
'There's daggers in men's smiles' (Act II, Sc. III) Tag Ambition Power
Macbeth is a brave general, loyal to King Duncan and to Scotland. Until, that is, he meets three evil witches after a battle against King Duncan's enemies. They tell him that one day he, Macbeth, will be King of Scotland. This is the beginning of a story of ambition and evil, involving him and his calculating wife, Lady Macbeth. What follows leads them to terrible violence, murder, madness and ultimately to their own destruction.
Fully interactive graded reader now available on iBooks.
The multimedia options at your fingertips make reading for language learning come alive – read, listen, check meanings, make notes, have fun with interactive exercises!
• Full audio on every page
• Interactive exercises at the end of each chapter
• Photo-galleries – illustrated introduction to the characters
• Interactive on-page dictionaries
• Information about the author
• Historical and cultural background to each book
• Landscape and portrait orientation
Configurazione e acquisto
Macbeth - iBooks
ISBN: id727072445