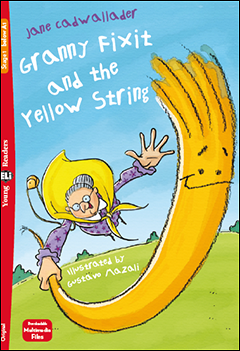 Granny Fixit and the Yellow String
ELI
Stage 1 - Young ELI Readers - below A 1
32 pagine
Autori
Jane Cadwallader - Illustrazioni di Gustavo Mazali
Ann is ALWAYS losing her things and her teacher is angry. But help is on the way! Granny Fixit and her piece of yellow string solve all her problems … or do they?
Tags
Adventure
Magic
- Games and language activities
- An audio recording of the story
- A picture dictionary
Syllabus
Vocabulary areas
School, family and friends, the home, toys
Grammar and structures
Present simple
Present progressive
Imperatives
Have for possession
There is / There are
Can for ability
Question words: Where? / What?
Conjunctions: and / but
Determiners: this / that / a / an / a lot of
The Multi-ROM CD that accompanies the Young ELI Readers adds a new, digital dimension to reading in class with an interactive whiteboard (IWB), to reading in the school multimedia centre or to reading at home on the PC.
The Multi-ROM CD allows children to:
• follow fun animations of the story;
• listen to the recordings on either a conventional CD player or a PC;
• do engaging, interactive and auto-correcting exercises.
Contenuti digitali integrativi - Studente
Contenuti digitali integrativi - Docente
Registrati o accedi per visualizzare i contenuti digitali integrativi per il docente
Configurazione e acquisto