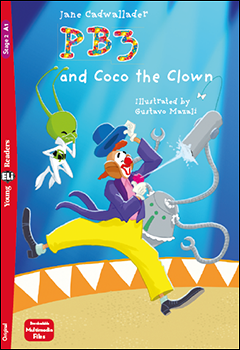 PB3 and Coco the Clown
ELI
Livello 2 - Young ELI Readers – A1
32 pagine
Autori
Jane Cadwallader - Illustrazioni di Gustavo Mazali
Vi piace il circo? Allora seguite l'extraterrestre PB3 e il suo robot Robina in questa avventura piena di acrobati e prodezze.
Tags
Circus
Family
- Games and language activities
- An audio recording of the story and the song
- A picture dictionary
Syllabus
Vocabulary areas
Family, time and meals, the body and face, clothes, colours
Grammar and structures
Present simple
Present progressive
Verb + infinitive
Infinitive of purpose
There is / There are
Prepositions of place and movement
Possessive adjectives
Descriptive adjectives
Question words: Who? / What? / Why? / Where?
Contenuti digitali integrativi - Studente
Contenuti digitali integrativi - Docente
Registrati o accedi per visualizzare i contenuti digitali integrativi per il docente
Configurazione e acquisto