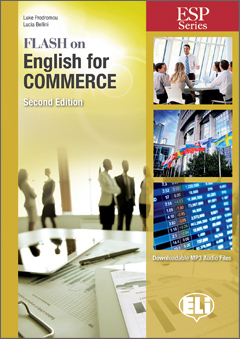 Flash on English for Commerce
ELI
Students preparing to enter the world of sales, business administration or finance will benefit from the vocabulary, structures and communicative functions presented and practised. Short and manageable units offer thorough vocabulary development, skills practice in realistic contexts and frequent opportunities for discussion.
Topics covered:
• The Market
• Job applications
• Business conversations
• Business correspondence
• Business organizations
• Business transactions
• Trade documentation
• Trade legislation and organisations
• Marketing
• The Stock Exchange
Accedi ai contenuti digitali direttamente dal libro cartaceo
Come funziona ELI LINK
Con ELI LINK potrai accedere a tutti i contenuti audio e video direttamente da uno smartphone o un tablet mentre stai utilizzando i volumi cartacei Gruppo Editoriale ELI.
Scarica l'app
Avvia l'app
Inquadra la pagina che contiene i contenuti audio/video
L'app proporrà tutti i contenuti presenti
Contenuti digitali integrativi - Docente
Registrati o accedi per visualizzare i contenuti digitali integrativi per il docente
Configurazione e acquisto
ESP Series - Commerce (Coursebook – 64 pp. Full colour)
ISBN: 9788853621795