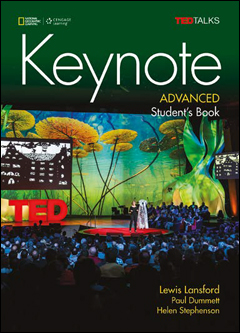 Keynote
National-Geographic
ELEMENTARY – PROFICIENT CEFR A1 – C2 | 6 LEVELS
Autori
Paul Dummett, Lewis Lansford, Helen Stephenson, David Bohlke with Stephanie Parker
Inspiring Communication – bringing the power of ideas to your classroom.
Underpinned by a solid, trusted methodology, covering all four skills, critical thinking, digital and visual literacy, Keynote equips
students with the skills and knowledge needed to succeed in the 21st century. Students are introduced to a world of ground-breaking realworld ideas that promote curiosity, innovative thinking and a different take on the typical. Through authentic global content students are inspired to express their own thoughts and ideas confidently and fluently in English.
• Functional and practical output – with a focus on everyday language, enabling clear communication in speaking, writing
and presenting
• Contemporary infographics present grammar in a natural and clear context
• Real-world inspiration provided not only through TED Talks but also through the reading texts and infographics
• A strong 21st century skills syllabus – covering critical thinking, visual literacy, digital literacy, creative thinking and global citizens
MyELT is an online platform that provides students with an interactive self-study tool and offers teachers and institutions a joined-up learner management solution. We have spent a lot of time talking to users and seeing what works and what doesn't in order to provide something that really works and brings an added benefit to classes.
- Intuitive and simplified navigation
- Full screen activities and video "
- Adding new content and resources is straightforward and easy
- Key titles and all forthcoming titles will be tablet enabled allowing for real mobile learning
Configurazione e acquisto