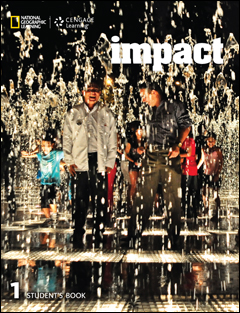 Impact
National-Geographic
BEGINNER – UPPER INTERMEDIATE CEFR A1+ – B2 | 5 LEVELS
Autori
Katherine Stannett, Lesley Koustaff, Diane Pinkley, Thomas Fast
Impact helps teenage learners to better understand themselves, each other and the world they live in. By encouraging self-expression, global citizenship and active participation, Impact motivates students to explore who they are and who they want to be, all while learning English!
• National Geographic Explorers are featured as role models who embody the 21st century skills and values teenagers
need to become successful global citizens.
• Cross-curricular topics engage learners with stimulating information about the world, better preparing them for
future academic success.
• Student choice activities and projects present learners with options for language practice, allowing teens to become active participants in the learning process.
MyELT is an online platform that provides students with an interactive self-study tool and offers teachers and institutions a joined-up learner management solution. We have spent a lot of time talking to users and seeing what works and what doesn't in order to provide something that really works and brings an added benefit to classes.
- Intuitive and simplified navigation
- Full screen activities and video "
- Adding new content and resources is straightforward and easy
- Key titles and all forthcoming titles will be tablet enabled allowing for real mobile learning
Configurazione e acquisto
IMPACT 1 STUDENT'S BOOK EBOOK
ISBN: 9780357641224
IMPACT 2 STUDENT'S BOOK EBOOK
ISBN: 9780357641231
IMPACT 3 STUDENT'S BOOK EBOOK
ISBN: 9780357641248
IMPACT 4 STUDENT'S BOOK EBOOK
ISBN: 9780357641255
IMPACT FOUNDATION STUDENT'S BOOK EBOOK
ISBN: 9780357641477
IMPACT 1 ONLINE WORKBOOK
ISBN: 9781337293662
IMPACT 2 ONLINE WORKBOOK
ISBN: 9781337293679
IMPACT 3 ONLINE WORKBOOK
ISBN: 9781337293686
IMPACT 4 ONLINE WORKBOOK
ISBN: 9781337293693
IMPACT FOUNDATION ONLINE WORKBOOK
ISBN: 9781337293655
IMPACT STUDENT BOOK 1
ISBN: 9781337281065
IMPACT STUDENT BOOK 2
ISBN: 9781337281072
IMPACT STUDENT BOOK 3
ISBN: 9781337281089
IMPACT STUDENT BOOK 4
ISBN: 9781337281096
IMPACT STUDENT BOOK FOUNDATION
ISBN: 9781337280310
IMPACT WORKBOOK+CD 1
ISBN: 9781337293921
IMPACT WORKBOOK+CD 2
ISBN: 9781337293938
IMPACT WORKBOOK+CD 3
ISBN: 9781337293945
IMPACT WORKBOOK+CD 4
ISBN: 9781337293952
IMPACT WORKBOOK+CD FOUNDATION
ISBN: 9781337293969