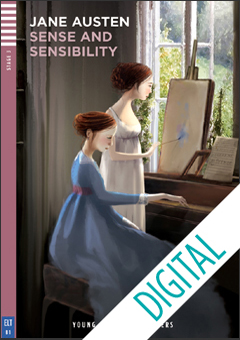 Sense and Sensibility - iBooks
ELI
STAGE 3 Intermediate | 1000 headwords | B1 | Preliminary | Classic
iBooks for iPad
Autori
Jane Austen Adaptation and activities by Elizabeth Ferretti. Illustrated by Barbara Baldi Bargiggia
The philosophical resolution of the novel is ambiguous: the reader must decide whether sense and sensibility have truly merged.
They both meet the man of their dreams, but will they find true happiness? Sense and Sensibility is Jane Austen's classic story of two sisters who have a lot to learn about love.
Fully interactive graded reader now available on iBooks.
The multimedia options at your fingertips make reading for language learning come alive – read, listen, check meanings, make notes, have fun with interactive exercises!
• Full audio on every page
• Interactive exercises at the end of each chapter
• Photo-galleries – illustrated introduction to the characters
• Interactive on-page dictionaries
• Information about the author
• Historical and cultural background to each book
• Landscape and portrait orientation
Configurazione e acquisto
Sense and Sensibility - iBooks
ISBN: id836535784