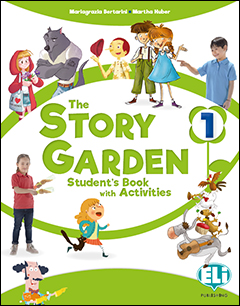 The Story Garden 1-2-3-4-5-6
Beginner to Elementary - Common European Framework: A1-A2
Autori
M. Bertarini, Martha Huber, Jane Cadwallader and Michelle Worgan
The Story Garden is a new English language course for primary schools aimed at students from 6 to 11 years old.
The Story Garden is based on The Heart and Mind Approach, that creates synergy between the cognitive and emotional aspects of the students. Emotions and thoughts not only interact, but their integration is essential in the learning process.
• Each level of the course has 6 units, each one based on classic fairy tales, or other fairy tales, important to promote emotional learning.
• In the choice of contents and presentation methods, the course is attentive to DSA and SEN issues.
• Interdisciplinary activities (CLIL) convey knowledge related to other disciplines.
• Unique digital book, fully interactive and with many resources accessible and downloadable.
Student's Book Structure
• Each unit opens with the presentation of the target vocabulary; the unit includes activities, songs, games, comic stories, language games, CLIL and civilization. Useful grammar tables have been included from Level 3 onwards.
• Easy English pages are integrated in the coursebook with simplified activities for students with educational needs.
• The Workbook is integrated in the Student's Book and includes revision activities and grammar tables.
• Final Cambridge YLE exam preparation pages, from the third level.
Teacher's Book Structure
• Step-by-step guidance and didactic ideas for each page of the course.
• Self-assessment and self-learning cards.
• Transcriptions of audio and video material; linguistic, grammatical and cultural curiosities.
• Tests & Resources, a complementary volume of photocopiable
Digital resources for online / blended lessons
• Interactive and downloadable Digital Book with audio and video files, interactive and self-correcting activities, symbols to enable students to listen and practise the pronunciation
• ELI LINK App: instant access to audio and video content in a click directly from the book with any device
Accedi ai contenuti digitali direttamente dal libro cartaceo
Come funziona ELI LINK
Con ELI LINK potrai accedere a tutti i contenuti audio e video direttamente da uno smartphone o un tablet mentre stai utilizzando i volumi cartacei Gruppo Editoriale ELI.
Scarica l'app
Avvia l'app
Inquadra la pagina che contiene i contenuti audio/video
L'app proporrà tutti i contenuti presenti
Contenuti digitali integrativi - Docente
Registrati o accedi per visualizzare i contenuti digitali integrativi per il docente
Configurazione e acquisto
Flashcards 1
ISBN: 9788853634764
Flashcards 2
ISBN: 9788853634771
Flashcards 3
ISBN: 9788853634788
Flashcards 4
ISBN: 9788853634795
Flashcards 5
ISBN: 9788853634801
Photocopiable Worksheets 1-2-3
ISBN: 9788853632890
Photocopiable Worksheets 4-5
ISBN: 9788853632906
Photocopiable Worksheets 6
ISBN: 9788853632913
Poster Pack (2 posters) 1
ISBN: 9788853634818
Poster Pack (2 posters) 2
ISBN: 9788853634825
Poster Pack (2 posters) 3
ISBN: 9788853634832
Poster Pack (2 posters) 4
ISBN: 9788853634849
Poster Pack (2 posters) 5
ISBN: 9788853634856
Student's & Activity Book 1
ISBN: 9788853632777
Student's & Activity Book 2
ISBN: 9788853632784
Student's & Activity Book 3
ISBN: 9788853632791
Student's & Activity Book 4
ISBN: 9788853632807
Student's & Activity Book 5
ISBN: 9788853632814
Student's & Activity Book 6
ISBN: 9788853632821
Teacher's Book 1
ISBN: 9788853632828
Teacher's Book 2
ISBN: 9788853632845
Teacher's Book 2
ISBN: 9788853632842
Teacher's Book 3
ISBN: 9788853632852
Teacher's Book 4
ISBN: 9788853632869
Teacher's Book 5
ISBN: 9788853632876
Teacher's Book 6
ISBN: 9788853632883
Digital EditionThe Story Garden International 1
ISBN: 9788853636683
Digital EditionThe Story Garden International 2
ISBN: 9788853636690
Digital EditionThe Story Garden International 3
ISBN: 9788853636706
Digital EditionThe Story Garden International 4
ISBN: 9788853636713
Digital EditionThe Story Garden International 5
ISBN: 9788853636720
Digital EditionThe Story Garden International 6
ISBN: 9788853636737